Lease by the Hour®
Realize new savings with the industry's first usage-based equipment leasing solution.
Take payment flexibility to the next level with Lease by the Hour
Utilize flexible leasing options designed to focus on the actual hours equipment will be operated with Lease by the Hour. A base monthly payment is established using minimum monthly usage data, often collected by DLL's proprietary technology,
Fleet Central
.
Why businesses choose Lease by the Hour
High hourly equipment usage
Uncertainty of equipment usage hours
Significant fluctuations in business activity
High volume of equipment inventory
Why businesses love Lease by the Hour
Lowers monthly payments
Eliminates overtime penalties
Drastically reduces overpayments
Provides flexible terms by actual usage
Eliminates unit rotation with unit assessments
20% discount after meeting hourly commitment
With Lease by the Hour, the customer commits to a block of hours (ex: 10,000 hours) over a longer term (ex: 60 months). Once the customer reaches the end of the lease term or pays the contract value (the sum of the monthly payments), the equipment can be returned or extended on a month-to-month basis with a 20% discount.
Transform standard leases with Lease by the Hour
See how Lease by the Hour creates savings on monthly payments for small and large ticket equipment leases.
Answering market demand for usage-based leasing solutions
The industry is seeking new solutions to more efficiently align equipment usage with equipment payments. A 2017 DLL customer survey discovered that 90% of customers are incorrectly estimating their annual usage and 68% of customers are paying more for their lease than they should. Lease by the Hour provides a new level of customization and flexibility for customers.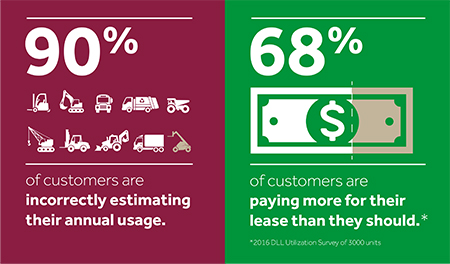 Theo Rennenberg
Account Manager Fleet Solutions
Contact me to learn more about flexible leasing solutions.
Thank you
We will get back to you as soon as possible.