Societal Impact
We care about improving lives.
Making a meaningful impact on society
DLL strives to positively impact the communities in which we operate. Along with financial contributions to community initiatives, we support Micro Leasing programs and volunteering efforts around the world.
Partner in Micro Leasing
In emerging economies, such as Rwanda and Kenya, DLL helps to develop and improve access to local financial infrastructures for low-income entrepreneurs. We do it through our Micro Leasing Advisory Services.
Our goal is to support these Micro Finance Institutions in developing an alternative micro finance product that increases the financial inclusion of low-income entrepreneurs to support their business success. Here's a snapshot of our work:
Partnering with the Rabo Foundation to provide expertise and training on asset-based financing and leasing at local Micro Finance Institutions
Advising Micro Finance Institutions in the efficiency and quality of their credit assessments
Swapping of assets during the lease life
Raising funds for Micro Leasing through our DLL Micro Leasing Fund, supported by our employees (in cooperation with Rabobank Client Fund, part of the Rabo Foundation).
Charitable donations and volunteering
We encourage our employees to invest their time and expertise to support causes and nonprofit organizations that need their support. Our employees are given two paid days off each year to support our volunteer efforts and impact.
As a company, we focus on social issues in the industries we work in and in all the local communities in which we operate, including:
Environmental protection and food supply
Economic vitality and entrepreneurship
Swapping of assets during the lease life
Youth empowerment and financial literacy
Healthcare quality
Volunteer collaboration with Ronald McDonald House
DLL has a long-term and significant relationship with Ronald McDonald House. DLL contributes to Ronald McDonald House through volunteering and grants. Every year, DLL employees volunteer to lend a helping hand at the Ronald McDonald House on an everyday basis. Together, we facilitate and support the organisation's work to ensure that families have the best living conditions.
Read more
Volunteering by the numbers

2 dedicated volunteering days per year

+10,000 hour given (2019)

+2,000 employee participation (2019)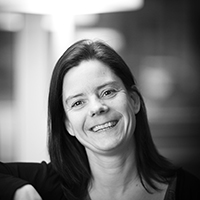 Marije Rhebergen
Head of Sustainability
Contact me if you would like to have more information.
Thank you
We will get back to you as soon as possible.