Publications to download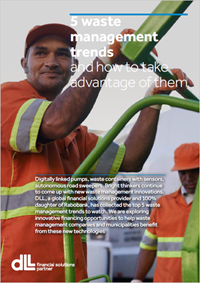 5 waste management trends and how to take advantage of them

Digitally linked pumps, waste containers with sensors and autonomous road sweepers-bright thinkers continue to come up with new waste management innovations. In this paper DLL has collected the top 5 waste management trends to watch. We are exploring innovative financing opportunities to help waste management companies and municipalities benefit from these new technologies
This whitepaper is available in various languages.
Download
Reduce the Total Cost of Operation (TCO) for your materials handling equipment

If you can't effectively measure the total costs associated with your equipment, how can you successfully manage it? In this paper DLL explains the importance of continuous communication between your Finance and Operations department and how this can result in years of successful TCO management. This paper is available in English, German, Dutch, Spanish, French, Polish, Swedish, and Danish.
Download
Sharing insights into Fleet Management Solutions

In 2015 DLL, with support of an independent agency, interviewed over 25 large buyers and operators of forklift trucks in Germany and the Nordics. The aim of these in-depth interviews was to understand how forklift trucks were purchased, financed and managed by large fleet users, and to identify Fleet Management requirements which would meet the needs of the business and minimize the Total Cost of Operation (TCO). This report describes the results of this research and is available in English.
Download
New Business Development Manager, Europe & AsiaPac
Contact me if you want to know more about financing solutions for the construction, transportation and industrial sectors in Europe and Asia.
Greg Stangl
Vice President of US Sales
Contact me to learn more about fleet solutions.