Across the world, as communities begin to emerge from social distancing, people are looking to find ways to have safe experiences outside of their homes. Many are looking to the outdoors and camping via RVs as safe and fun travel options that are environments they can control.
Prior to the COVID-19 pandemic, the RV industry was already experiencing positive growth across various demographics, from millennials and new families taking summer road trips to well established professionals taking a luxury escape. In North America alone, projections were for the market to grow from $21.7 in 2019 to $30.1 M in 2023.1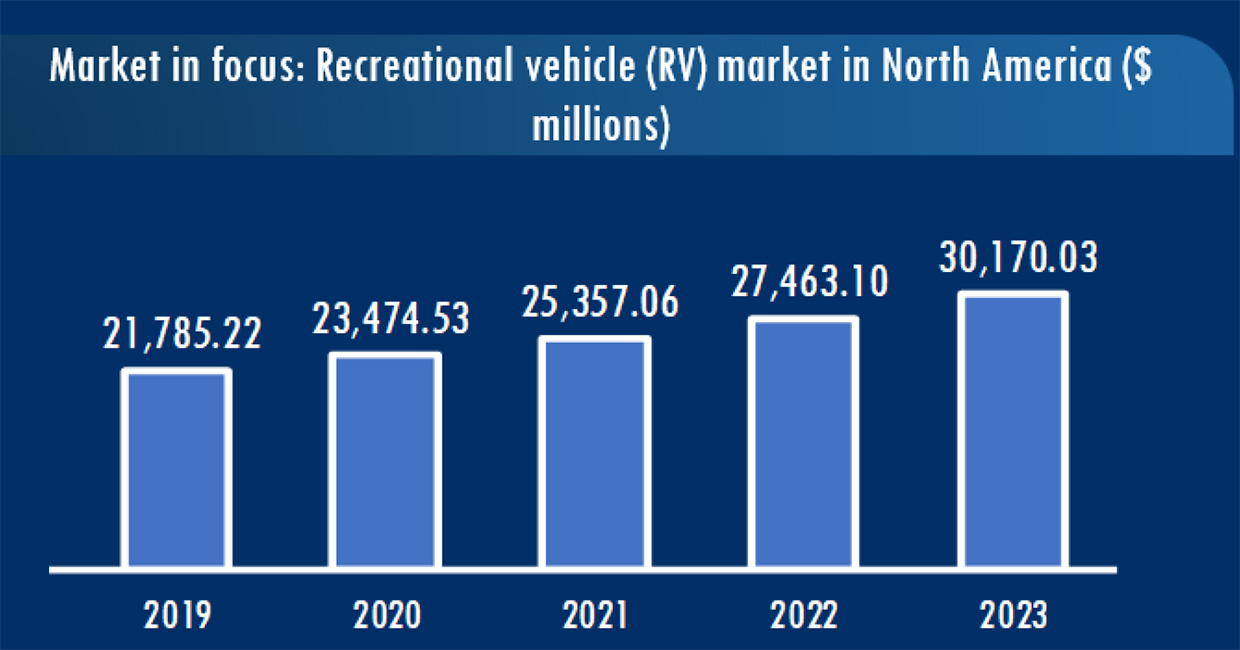 Image source: Technavio
Post-pandemic travel forecasts and increased camping and usage projections would indicate those numbers are expected to grow more rapidly with the increase of RV purchases and rentals.
The Today Show reports on the segment "New Normal" that popularity of RV surges amid coronavirus pandemic. This is indicative of healthy purchasing trends that will offer dealers healthy growth in the future. The RV Industry Association released information from a study noting a solid uptick in RV-related travel plans across the US over the next 12 months.
Many RV rental and booking sites have reported increases in bookings year over year. According to US-based RVShare, bookings jumped 650% in April 2020, ahead of the summer travel season. PaulCamper, a European recreational vehicle rental platform, has also seen a boom of more than 100% year over year.
How RV manufacturers and dealers can plan for growth using inventory finance
As RV manufacturers and dealers anticipate an increase in demand, they may want to consider an inventory finance partner to help with cash flow needs, increase purchasing power, and boost sales potential.
With an inventory finance solution:
A financing partner can plan lines of credit for eligible/qualified dealers to finance inventory purchases from their manufacturing partners, including new, rental, and used inventory credit lines without tying up balance sheets.
Manufacturers can get RV equipment into dealer and distribution channels by offering comprehensive financing options to help them grow their businesses.
Dealers can leverage credit lines to increase inventory and create the opportunity for additional sales.
As a global equipment finance partner for over 50 years, DLL can help RV manufacturers and dealers with their cash flow needs, increase purchasing power, and boost sales potential. For more information, visit our Commercial Finance page.
Source:
1 Technavio: Recreational Vehicle Market in North America 2019 - 2023 Study