Vermeer
Vermeer first began doing business with DLL in the fall of 2010. And while the company's global footprint and financial expertise within the industrial marketplace were the initial differentiators for DLL, both companies soon learned just how similarly aligned they were on many aspects of their businesses. From a shared appreciation of stewarding the earth's precious resources, to recognizing the "lifetime value of a customer," DLL and Vermeer have recognized how much they have in common.
About Vermeer

Leading industrial and agricultural equipment company making a real impact in a progressing world.

Global footprint

Vermeer reaches customers in more than 60 nations.

Partnership

Partnership with DLL since 2010.
A global partnership that starts with the individual
Vermeer is proud to offer high-quality equipment that is continuously improved in ways that are practical and useful to customers and help make their operations more efficient.
A relationship-based approach to risk management
"It is very important to us to continually innovate the design of the products we manufacture—and we understand that obtaining our equipment requires a considerable investment," said Jill Blanco global dealer finance manager. "Finding a financial partner with a proficiency in credit underwriting was a must. DLL takes that fundamental skill one step further—they not only understand risk, but they also want to establish a relationship with the end-user to capture a holistic view of their credit profile."
Doing what's right for the customer
Flatirons, a Vermeer customer based in Eaton, Colo., U.S., had initially obtained financing—an agreement that allowed for a 90-day deferment—through DLL, in April 2013. When it came to owner Dan Overton's next acquisition of a new D220x300 Navigator® horizontal directional drill and an R400T reclaimer, he again looked to DLL.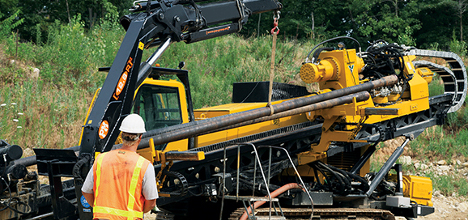 "Dan's business was still in the early stages of growth when we first met," said Alex McAllister, regional sales director, DLL. "But in our first year of working with him, he more than doubled his 2013 revenue goal and 2014 is also tracking very strong. Furthermore, the recognized companies with which he does business—Xcel, Suncor, and others—boosted Flatiron's credibility."
The second interaction Alex had with Dan involved a lot of discussion back and forth, to arrive at a financing package that would enable him to get both pieces of equipment at a reasonable interest rate—one that would also accommodate the level of exposure.
"We worked with Dan to arrive at a down payment that he could afford, but at the same time he received a zero down payment offer from one of our competitors," said Alex.
To add an additional layer of complexity, Dan's local bank also agreed to finance the whole transaction for zero down, using his existing line of credit.
Alex, working with dealer Vermeer Colorado, evaluated all of the options with Dan and further explained that if he used his line of credit, he wouldn't have it available later in case of emergency or for other future funding needs.
Because of the trust Alex had built with Dan and the ease of doing business with DLL, Dan chose DLL.
No two credit scenarios are alike
"DLL has the ability to hone in on the aspect most important to the end-user and then determines the right financing product to drive value for that individual's business," said Jill. "For Dan it wasn't just about price, but about reliability and consistency and that is what Alex and his team delivered."
Vermeer appreciates that DLL's view of risk management encompasses much more than just their current and leverage ratios—looking beyond the numbers to the underlying relationships at the manufacturer, dealer and end-user level.
Jill Blanco
Global dealer finance manager

''DLL has the ability to hone in on the aspect most important to the end-user and then determines the right financing product to drive value for that individual's business."