Gain a competitive advantage with inbound financing from DLL Commercial Finance
As a vendor finance partner, we work with manufacturers to design flexible, customized financial solutions with their network of distributors.

As products move to distribution, manufacturers receive quick payment for their goods while distributors have extended payment terms for reimbursement.

DLL can offer businesses a competitive advantage by helping move more products through the channel and improving cash flow management.
How it works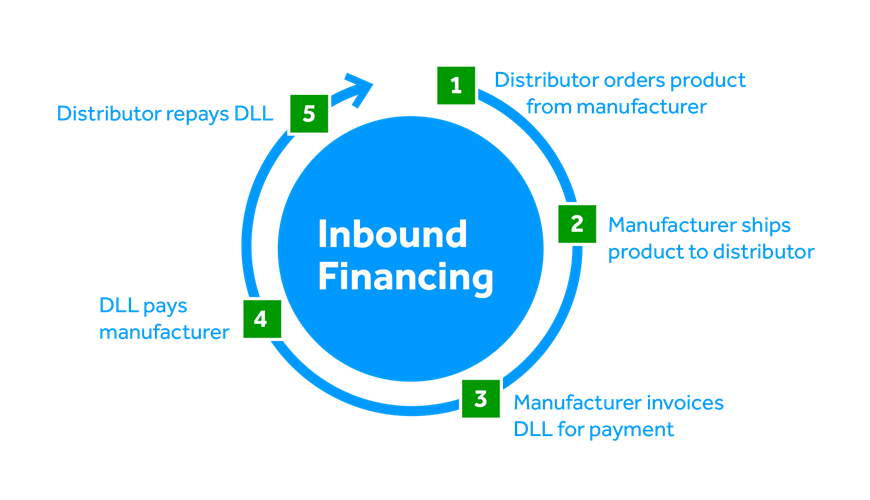 Benefits of partnering with DLL
For manufacturers:
Accelerates payment
Protects cash flow
Guarantees pay days
Moves more product through the channel
Provides value for quarter-end buys
Transfers risk
For distributors:
Provides extended payment terms
Improves cash flow management
Boosts product availability
Allows ability to offer more product in inventory
Why businesses choose Commercial Finance
Flexible, fast, custom
Develop fast to market solutions with hands on industry-specific financing experts to address your business's unique needs, challenges and goals.
End-to-end solution
Provide a comprehensive package of financial services that address the entire supply chain, from manufacturer to end-user.
Growth accelerator
Improve your cash flow and focus on growth initiatives by implementing efficient and effective financing solutions to close more deals.
Feel confident with a global finance leader
With 50 years of experience, DLL understands the unique needs of our partners around the world—and offers proven solutions to help businesses thrive.